Every Profeline cat tree allows you to choose the wood finishes and cover colours freely. Design your own cat tree from a choice of 4 wood finishes and 10 different covers to match your home.
The wood: Cathouses and padded platforms are crafted from high quality and flexible birch plywood and impregnated with oil wax. This finish gives the surfaces extensive resistance against moisture, as well as their robust and easy-care qualities. The visible wood grain and the decorative multiplex edges give the furniture an outstandingly stylish appearance. All wood edges are rounded, the surfaces are polished – excellent quality of craftsmanship, as you expect from sophisticated furniture.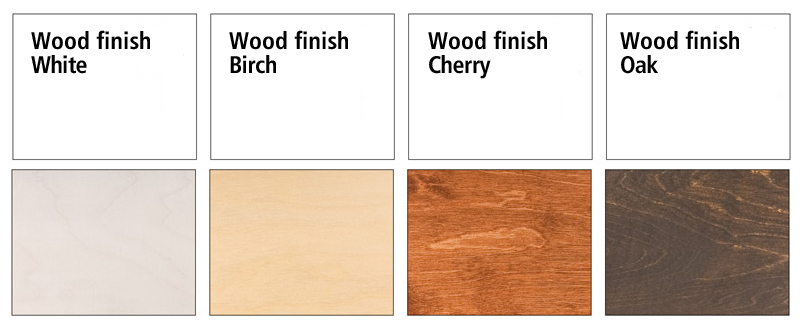 With velour carpet covering – available in a range of colours
The carpet grade employed by us is typically used in heavy-duty office environments. This carpet is particularly durable and easy-care due to its short and dense pile. The loungers are slotted on and can be removed for comfortable vacuum cleaning. Heavy soiling can be removed with carpet foam. And if the worst should happen after all, the platform can be exchanged entirely. The carpet is tested for harmful substances and has been certified with the environmentally safe seal of approval at grade "GUT" (good).

With sisal covering – available in 2 colours
Astra, who produces high quality carpets for interior spaces, supplies our sisal covers. With its robust characteristics and sophisticated appearance, sisal really is setting the trend. The hydroscopic properties (moisture binding) properties of the sisal fibres create a healthy and comfortable climate in your home, as they regulate moisture levels in the room in a natural fashion. Cats scratching horizontally will love these covers. With this many advantages, please note that heavily soiled
sisal covers are slightly more difficult to clean. The slotted-in platforms can, however, be replaced at any point.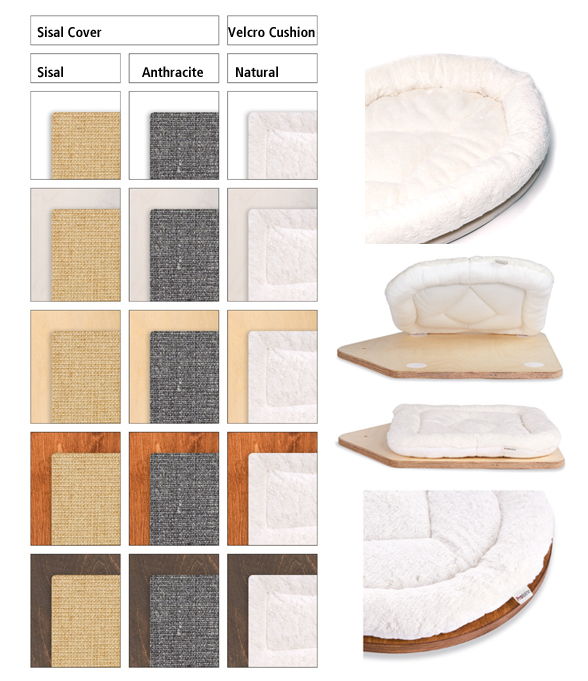 With washable cushions – in Natural colour
The washable cushions are fleecy underneath, allowing them to attach easily to the hook and loop points on the wooden platform. The are machine-washable and can be placed in the tumble dryer. We supply flat padded cushions for the flat platforms and padded cushions with high sides for the deep platforms. The fluffy Profeline cushions are made from soft snuggle-cotton and they are designed to meet all of your cat's requirements. The fabric is heat regulating and the high proportion of cotton prevents any static charge.