A hammock bed is undoubtedly the most beloved resting spot for cats – and that's no surprise, as it offers the comfort of a cozy cat bed. Your cats can curl up in it – without the fear of falling. Our hammock beds, like all our scratching post modules, are crafted from high-quality birch plywood. The continuous round edge has a width of 5 cm, providing a gentle landing surface for your cat when jumping from a higher level of the scratching post. The extremely flexible wooden frame noticeably cushions the jump, thus protecting your cat's joints. The sturdy and enticing cotton cover is adored by cats.

Our large hammock bed with a diameter of 50 cm is suitable for large, heavy, and big cats. The easy-to-care-for cover of the cat hammock is made of cotton, washable, and suitable for the dryer. The crucial difference between our cotton cover and terry cloth for cat claws are the open fibers of our cotton – no loops like in terry cloth towels – this is important, as it ensures that your cat's claws won't get caught in the loops!
The open fibers also keep the cover looking nice even during vigorous scratching, as every cat owner knows when your cat luxuriously lounges on a towel and starts extending her claws. The cover can be easily removed by opening a zipper or fastener. This quality has been popular with our customers and their cats for 20 years. The wooden frame of the hammock and the fabric of the cover are produced and sewn in Germany.
You can choose the hammock bed in the following wood colors: white oiled, birch oiled, cherry oiled, and dark oak oiled. Matching cotton hammock bed covers are available in the colors natural (wool white), ruby red (dark red), classic silver (mouse gray), sand (beige), and black.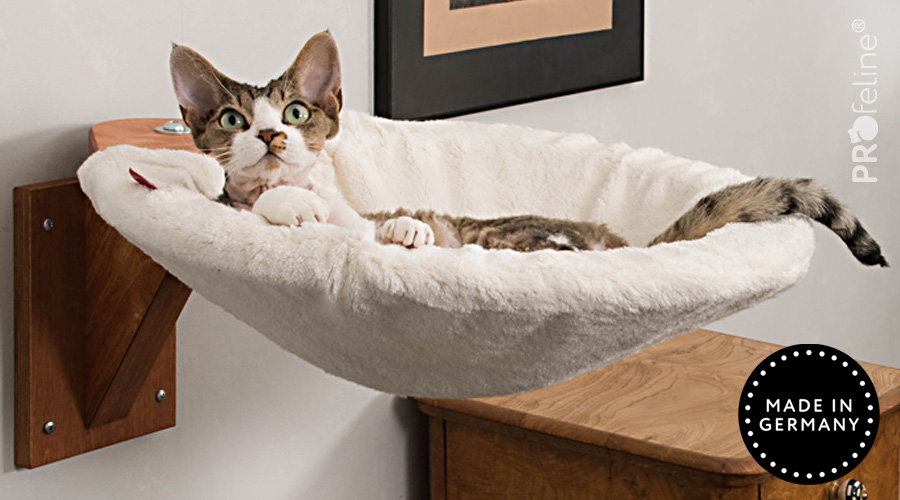 Our hammock bed can be mounted not only between 2 sisal poles but also in combination with a wall bracket, as shown in the photo above. The installation between two of our sisal poles is just as easy as with our other cat beds – the length of the sisal poles doesn't matter. The hammock is placed on a threaded pin and securely and stably clamped by tightening the poles. It can also be easily mounted as a final bed on a sisal pole.
With our versatile modular system, you can offer your cat this new favorite spot either on a scratching post or as a wall-mounted bed – your furry friend will be delighted. Thoughtful and functional cat-friendly design characterizes Profeline products.
You can find our beautiful hammock bed as an individual item in our Scratching Post Kit in the section Middle Parts or with a wall bracket as a Wall-Mounted Cat Hammock Bed. For example, our ceiling-high scratching posts with 2 hammock beds for a multi-cat household.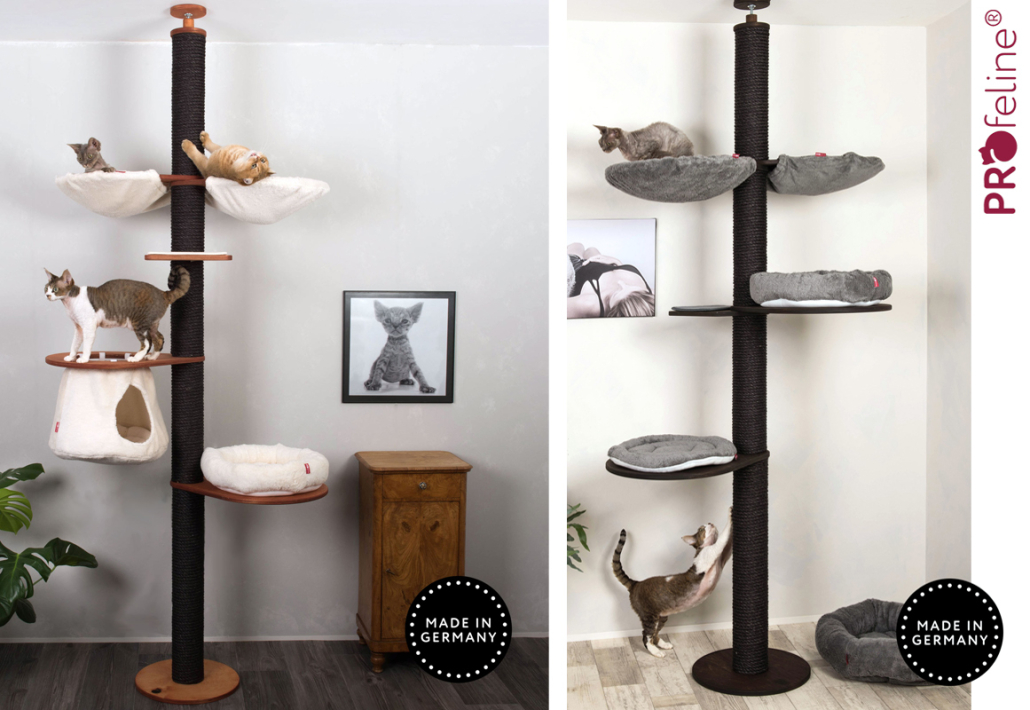 Left model ceiling-high scratching post model Leonie in cherry wood color and washable covers in natural / Right photo ceiling-high scratching post model Anouk in oak wood color and washable covers in classic silver.
Take a look at how comfortable our cats feel in a hammock bed.
Enjoy Boris and Assol
https://www.profeline.de/wp-content/uploads/2022/08/wandliege-katzenmulde-grau-gross.jpg
375
900
Volker Schlecht
https://www.profeline.de/wp-content/uploads/2019/05/logo-neu-transparent.png
Volker Schlecht
2023-08-13 15:57:11
2023-08-25 16:04:38
Cat lounger with bed in cotton, washable for large cats