Da Bird from the USA – probably the most well-known, and most frequently discussed, cat teaser. Does it really live up to what it promises and what is said about it – does it really get every cat going?
This good reputation is not only thanks to the particularly stable feathers: the long, thin cable connecting the feathers to a swivel joint also has a part to play. This joint enables the feathers to turn around when the teaser is swung. This makes a quiet whispering sound like the flapping of a bird's wings.
Unfortunately, it's getting harder and harder to import the DaBird teaser from the USA. Fortunately, a small company in Scotland has stood up to the plate and developed a cat teaser that is absolutely identical to the Da Bird.
Frenzy Cat Toy from England – the new, exciting cat teaser has a range of interchangeable pendants in various shapes and different levels of quality, and with different characteristics.
I would like to show you the difference between the two cat teasers: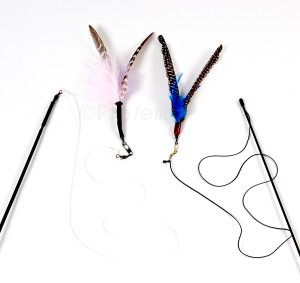 The rod:
Da Bird (right-hand image) – there are 3 different versions: a short rod, a long rod or a pull-apart rod. The rod is significantly stiffer, and not as flexible.
Frenzy Cat Toy (left-hand image) – there are 2 different versions:  a shorter rod or a longer rod. The rod is very bendy and flexible. The long rod can be twisted around.
My summary – I prefer the shorter Frenzy rod – you can use it to play with your cat in a more directed manner. If you have a lot of room, you'd love the long rod: the flexible rod makes the pendant fly even further. However, some people find the long rod too unstable.
The tie:
Da Bird – a thin polyester cord securely attached to the teaser.
Frenzy Cat Toy – comparable cord, but attached to the rod by a hook.
Advantage of Frenzy – it is easy to change the string if it gets bitten through – it's near-impossible to tear. Price/quality – Frenzy's cat teaser is cheaper
The feathers:
Da Bird – 2 long guinea fowl feathers with colourful short marabou feathers capped with an eyelet.
Frenzy Cat Toy – 2 long pheasant feathers with colourful, fluffy marabou feathers secured with a shrink tube and eyelet.
Summary– I think both feathers are absolutely comparable. In terms of price/quality, the Frenzy feathers definitely come out on top.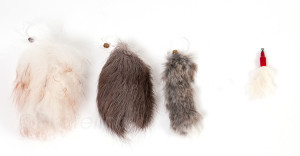 The fur pom-pom:
Da Bird Fur Fun (far right) – a fur pom-pom that is 7cm long, very soft, and available in "wool white" and "brown". The fur is secured in a cap with an eyelet. The quality has been upgraded, and, since 2014, it has been available in a 14 cm-long version.
Frenzy Cat Toy – here the hare fur (Hare Tastic – third from left) is probably the most similar in terms of quality. It is approx. 15 x 10 cm, is in various shades of brown and has a little bell attached to the fur with a ribbon.
Summary – the Frenzy Cat Toy pendant is definitely larger – but also a bit more expensive.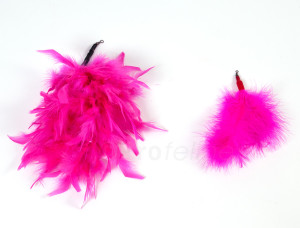 The feather puff:
Da Bird Kitty Puff (right-hand image) – a small feather pom-pom made of soft, downy feathers, attached to a swivel joint.
Frenzy Cat Toy Feather Fury – a small feather cluster with soft feathers and down feathers attached by a shrink tube with a swivel joint.
Both manufacturers make other pendants. One overall advantage of the Frenzy cat teasers is their lower price and the wider selection of a broad range of pendants.  There is definitely something there to please every cat.
Underneath, I have copied the interchangeable pendants our customers love the most. As we know, cats are individuals – and no two cats like the same thing! You might know already what kind of pendant your cat would like the most, or you might be looking to try out a range of things. In this case, I would recommend that you choose 3 different interchangeable pendants. One with a feather (which comes with the teaser), one made of fur, and possible something with glitter or a little mouse. These are Frenzy Cat Toys cat teasers and pendants.

Good to know:
the Frenzy Cat Toy team is completely against animal cruelty and the killing of animals for the sole purpose of getting their skin or fur. All materials used in Frenzy cat toys are carefully selected to ensure that the animals have been treated with respect. With Frenzy you can be sure that the materials used in the production of the cat toys are purely secondary products created in the manufacture of foodstuffs.
NB: It is important that you always clear away cat teasers after you and your cat have finished playing. If a cat tries to play with a toy unsupervised, it might get tangled up in the cord and panic – and in the worst-case scenario, the cord could get wrapped around the cat's neck. Loose, long cords can also be swallowed by cats. If this happens, please go to the vet immediately, and never try to pull the cord out yourself.
Frenzy Cat Toys are available here: http://www.profeline-shop.com/top-brands/frenzy-cat-toy
The original DaBird is available here: http://www.profeline-shop.com/top-brands/go-cat-da-bird
https://www.profeline.de/wp-content/uploads/2014/05/daBird_frenzy_cat_toy.jpg
500
1200
Ulrike Kurz
https://www.profeline.de/wp-content/uploads/2019/05/logo-neu-transparent.png
Ulrike Kurz
2016-10-10 18:28:00
2016-10-10 19:21:16
Da Bird / Frenzy Cat Toy: a comparison of cat teasers