DIY is fashionable at the moment – so why not make a cat toy for your kitty. It's fun for both you and your cat, and kitty-cat can help you come up with new, creative ideas. Fun guaranteed!
There are a range of materials you can use for DIY. In autumn, why not try chestnuts and pine cones? In winter, how about a cluster of ribbons that were used to decorate presents? And at Easter, colourful Easter eggs made from various materials, decorated with fluffy feathers, are surely a hit!
For the first DIY cat toy blog, I'd like to focus on our cats' favourite materials: feathers and ribbons.
You can find the things you need for our first cat teaser in DIY stores, craft shops, and, of course, online.
When buying your supplies, make sure that the colours go together. Colours in the same colour group (tertiary colours) always go well with each other – in our example, this is turquoise, blue and violet, red and violet, red and orange, yellow and orange, and green and yellow.
Alternatively, you could opt for harmonious colours – opposite from each other in the colour wheel. For example, yellow – violet, red – green and blue – orange.
For the cat teaser toy, as well as the feathers, you will need a heatshrink tube (you can pick this up in the DIY store too) and a pendant attachment. I just used the Frenzy Repair Set for cat teasers. This set contains a heatshrink tube and a pendant attachment. http://www.profeline-shop.com/top-brands/frenzy-cat-toy/frenzy-cat-toy-repair-kit.html

Just like arranging a bouquet of flowers, hold various feathers together. The teasers look prettiest when a range of materials are used. Feathers with a long felt ribbon – or feathers with raffia. Make sure that the bunch of feathers doesn't get too large, and that you can push it into the heatshrink tube. Now tie the feathers together firmly with strong thread and push them as deep as possible into the heatshrink tube.

Check that you like the arrangement of the feathers – and if it's ok, heat the shrink tube with a lighter. Like the name suggests, the tube will shrink tightly around the feathers. Your first cat teaser is finished!

Now all that's missing is a suitable rod for you to hang your beautiful DIY teaser pendant from. Just use a piece of wood or willow, and tie the pendant on securely.
I use what is probably the most well-known cat teaser – the DaBird – or Frenzy Cat Toy's cat teaser. Your home-made feather pendant can be attached to both of these using the safety pin.
You can find both of these cat teasers and many other teasers (whether with a tie fastener or a metal wire) for you to attach your home-made pendants to in our cat shop:  http://www.profeline-shop.com/cat-toys/dangler-pole-toys-wagglers

Enjoy your DIY! Ulrike Kurz.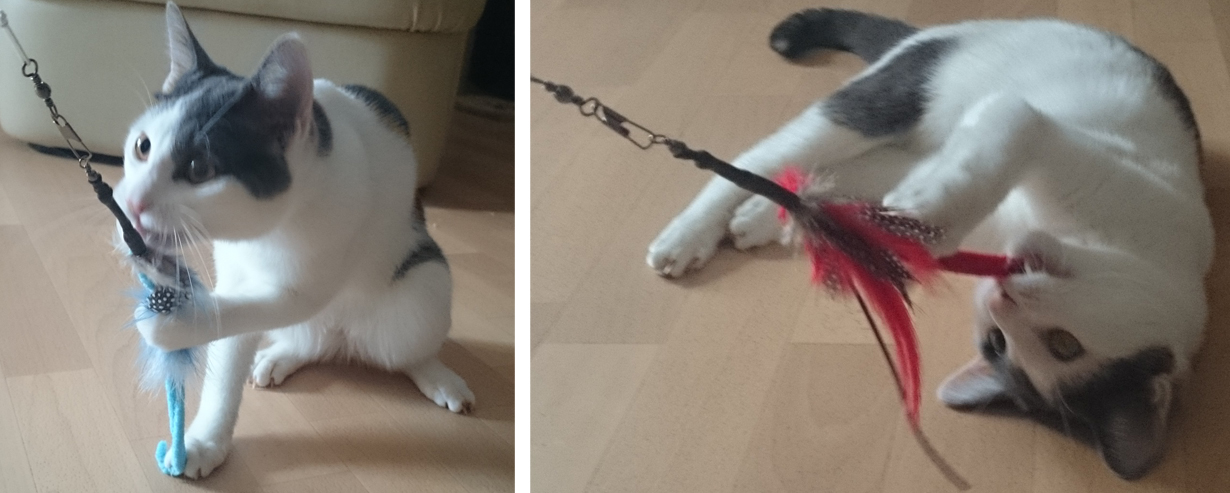 Tomcat Karl-Schmusel volunteered to test out our new DIY cat teaser toy. He particularly liked the red pendant with the long felt ribbon – he could grip it with his paws and chew on it. Thank you for your work!
https://www.profeline.de/wp-content/uploads/2015/03/katzenspielzeug_diy1.jpg
392
1066
Volker Schlecht
https://www.profeline.de/wp-content/uploads/2019/05/logo-neu-transparent.png
Volker Schlecht
2016-08-20 12:19:09
2016-08-20 12:36:53
Make your own cat toy – a DIY workshop