Young, active cats can have fun climbing and swinging!
OFF the curtains! If you find yourself saying this to your cat often, then the cat trapeze is just the right thing for you.
Young cats learn to climb the trapeze best and with the least difficulty. Young cats are very curious and like learning new things – so the cat trapeze is an excellent form of entertainment for them. Older, or heavier, cats are generally less curious, and they tend to be scared of new things – a swing of this size would frighten them, and your cat would not enjoy it.
The cat trapeze is available in 3 different lengths
Depending on the length, you can hang it in various locations around your house – from the ceiling with a hook, under the stairs or with a bracket from the wall.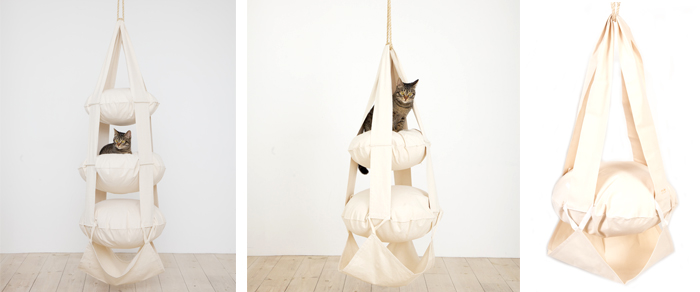 The cat trapeze comes without cushion fillers and is provided with a relatively short rope made of sisal fibre. This is often too short for a ceiling height of 2.40 metres or more. I recommend that you purchase a cotton rope from a DIY store. Cotton rope is easier to attach. Calculate the length you need – the bottom level of the trapeze should only be just above the floor.
Punch bag hangers have proven to be good for ceiling hooks – find them with the boxing accessories or in sports shops. As mentioned, the trapeze is delivered
without cushion fillers. The individual levels have a zip fastener on the bottom. Almost every kind of cushion that can be easily squashed down can be inserted into this pocket (it doesn't have to be round – it's easy to squash down the corners of soft square/rectangular cushions). It's harder to find round cushions in shops, and they're generally more expensive.    

Generally, the trapeze is available in 100% unbleached cotton. This robust fabric has been specially selected for cats, and is extremely sturdy and stable – it can put up with cats climbing all over it!
And if the natural colour doesn't suit your home, you can dye the trapeze whatever colour you like with fabric dye.
We tried to dye our trapeze using simplicol fabric dye in red. For this, you need 1 x fabric dye in the desired colour and dyeing salt – cost approx. €10. Put the trapeze in the washing machine with the dye and dyeing salt. Wash twice, and your trapeze is ready in the colour you chose. Very easy, and everything is repeated in the dyeing instructions (as you can see – the outcome was really successful).
And if you're still not sure if the cat trapeze is right for your cat, check out this YouTube video from the manufacturer:
And another private YouTube video, that I personally find very sweet, and also gets rid of some myths: it shows that British Shorthair cats or Highlanders, and Selkirk Rex, can be great fun – it's not just about the agile Bengal cats, Abyssinians and other "slim" breeds.
I hope I've helped you to make a decision, and if you think "my cat needs that" – then you can buy it in our CatShop.
P.S. Our shop also offers the right cushion fillers.
https://www.profeline.de/wp-content/uploads/2014/11/cat_trapeze_katzentrapez.jpg
374
898
Volker Schlecht
https://www.profeline.de/wp-content/uploads/2019/05/logo-neu-transparent.png
Volker Schlecht
2016-08-20 15:05:44
2016-08-20 16:02:42
The Cat Trapeze